Mesa Rouge (2 opções de tampo)
Opções de tampo: 1700x900x50mm
1400x900x35mm
Bordas de PVC
Impressão U.V. texturizada fosca e alto brilho
Pés reforçados em MDF de 50mm de espessura
Estrutura reforçada com peças de 25mm de espessura
Tampo chanfrado de madeira com vidro
About the product
Se você procura uma mesa com design arrojado para modernizar sua sala de jantar, a Mesa Rouge é perfeita. Com inspiração contemporânea, aliada a funcionalidade, essa mesa possui não somente beleza, mas também muito conforto.
O desenho autêntico dos seus pés, aliado ao tampo chanfrado com vidro, tornam essa mesa única e sofisticada, ideal para compor a sala de jantar dos seus sonhos.
Em formato retangular e por ser estruturada com 4 pés, você também terá espaço para acomodar todas as cadeiras deixando o seu ambiente mais espaçoso e organizado. Aproveite os momentos em família e amigos com muita sofisticação, a Mesa Rouge vai deixar sua sala de jantar com muito estilo e elegância.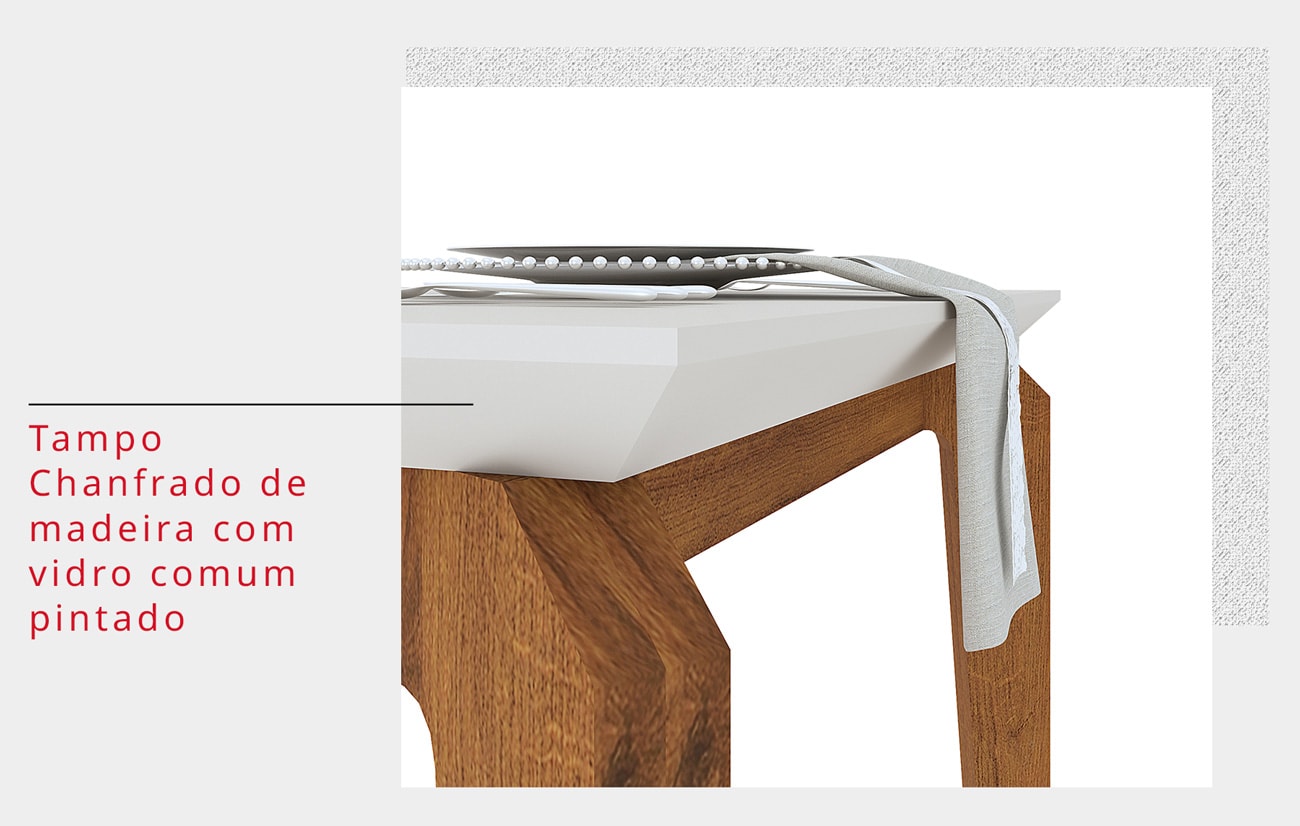 Characteristics
| | |
| --- | --- |
| Largura produto montado | 1400mm |
| Altura produto montado | 800mm |
| Profundidade produto montado | 900mm |
| Peso do produto sem embalagem | 48,85Kg |
| Material da estrutura | MDF |
| Formato da mesa | Retangular |
| Tampo fixo na base ou nos pés | Pés |
| Material do Tampo | MDF, MDP e Vidro comum de 4mm pintado |
| Revestimento externo | Impressão Ultravioleta Texturizado fosca com 08 camadas |
| Possui vidro | Sim, vidro comum pintado de 4mm |
| Produto extensível | Não |
| Possui sapatas para proteger contra umidade do piso | Sim |
| Sistema de Montagem | Cantoneiras, cavilhas e parafusos |
Colors
Rústico Terrara/Vidro Off White
Carvalho Nobre/Off White
Carvalho Nobre/ Preto Brilho
The favorite furniture of thousands of families.