Mesa Itália 1400x1400mm
1400x1400x50mm
Produzido em MDP e MDF
Impressão U.V. texturizada fosca e alto brilho
Laterais da Base em MDF usinadas em formato trapézio
Apliques decorativos em MDF
Apoio reforçado da Base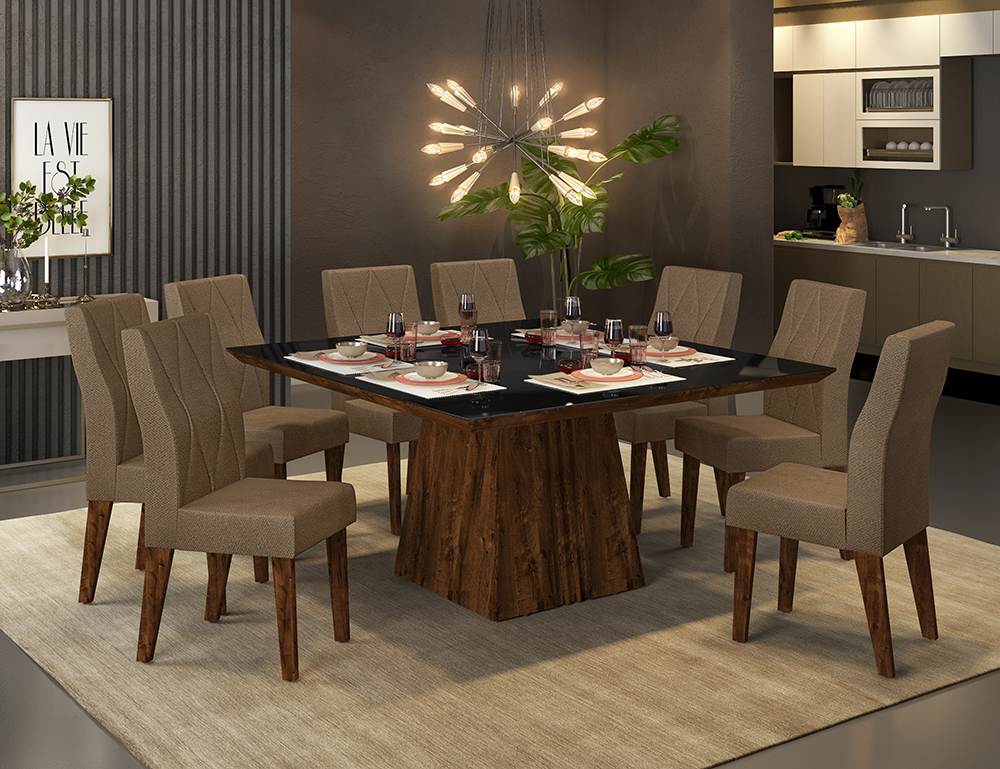 Color: Rústico Malbec/Preto Brilho + Chairs Rústico Malbec/Pecan
About the product
A Mesa Itália é o que você precisa para decorar a sua sala de jantar, o design moderno da base em formato trapézio aliado ao tampo chanfrado com vidro, vão deixar seu ambiente mais sofisticado. Na medida de 1.20m, é ideal para espaços compactos e seu formato retangular para 4 lugares, vai acomodar amigos e familiares confortavelmente. Os apliques decorativos no centro da base, dão um charme especial ao produto, um diferencial único e moderno.
O sistema estrutural da mesa é muito resistente, composta por peças em MDP e MDF, que são resistentes e ecologicamente corretos, garantindo a segurança e durabilidade do móvel. Aproveite os momentos de lazer com amigos e familiares em um ambiente aconchegante e contemporâneo.
Characteristics
| | |
| --- | --- |
| Largura produto montado | 1400mm |
| Altura produto montado | 795mm |
| Profundidade produto montado | 1400mm |
Colors
Rústico Malbec/Preto Brilho
Rústico Malbec/Off White
Rústico Terrara/Off White
The favorite furniture of thousands of families.