Lippi Floating Tv Wall Panel 2150mm TV 70 inches

Tv - 70 inches
Drawer Fronts with 3D Form Finish
2 Drawers with Ample Internal Space
0.98 in (25mm) Top Surface, Sides and Base
Tower w/ 3 Glass Shelves Lined with Mirrors and Led Application
100% MDF Product
About the product
The Lippi Floating TV Wall Panel is a versatile and elegant product, with a lot of sophistication and a charming design. With DIP coating on its wood-colored pieces, providing a delicate touch of the wooden blades. It is worth mentioning the 3D design of the drawer fronts, which accentuates and draw attention for the boldness of the shape. We are talking about 3D Form, a process made through high performance laminate flooring, a process made through a new production technology, in addition to drawers that help you organize those objects you need to keep somewhere easily accessible, and don't forget that the space to pull the drawer is at the bottom of the piece.
Next to the drawers there is a niche with an 0.70 in glass shelf, where you can store your TV, DVD or videogame console. The wall panel has ample space for TVs up to 70 inches, providing the best entertainment for you and your family. Next to the space for the TV, there is a mirror media tower with 0.70 in glass shelves, the perfect place to display your decorative objects, drawing attention to them, thanks to LED strips that are on the sides of the mirror media tower.
As it is a suspended furniture, it provides space on the floor to make cleaning easier in addition to providing a place for other decorative objects or ottomans. With so many attributes and such a bold design, the Lippi Floating TV Wall Panel is the right choice if you want sophistication and quality in your living room. Make your environment more elegant and comfortable with this beautiful piece.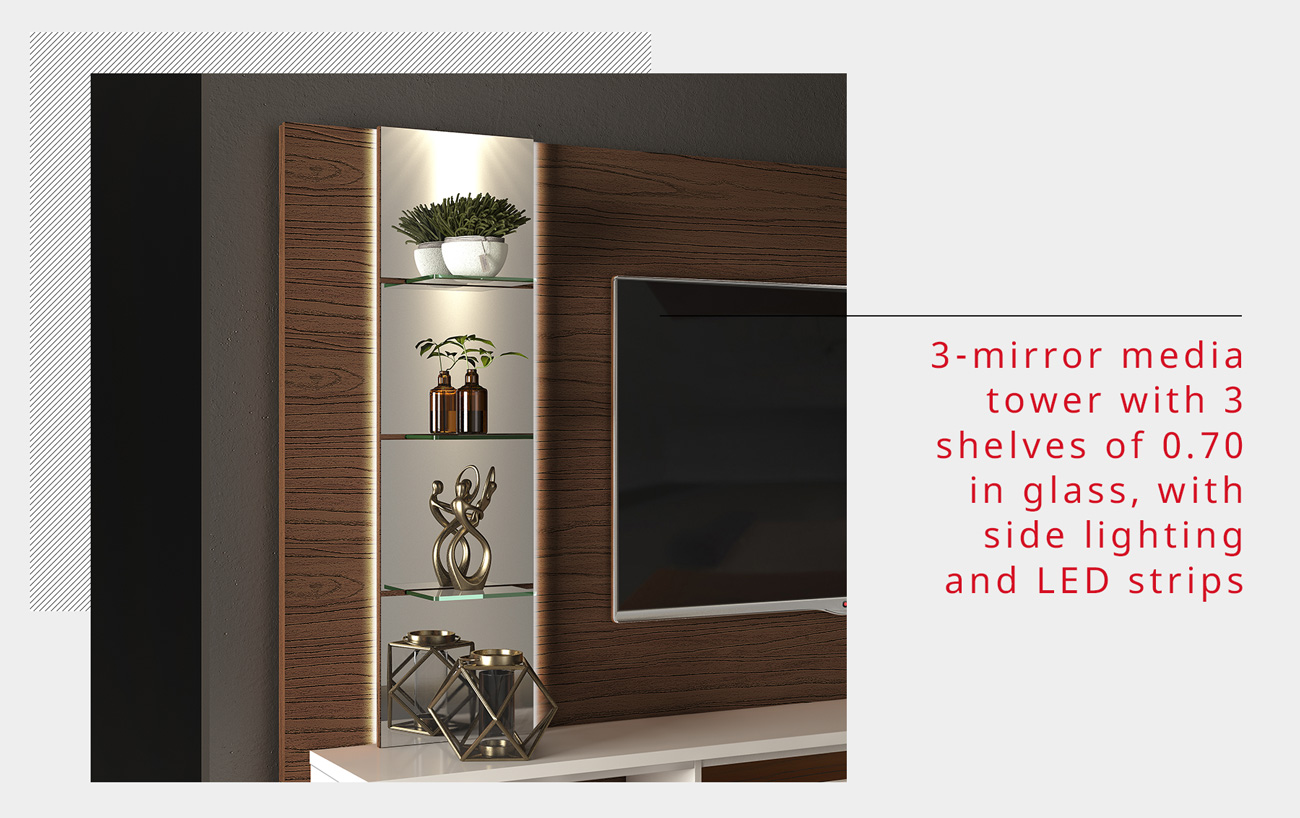 Characteristics
| | |
| --- | --- |
| Mounted product width | 2150mm |
| Mounted product height | 1650mm |
| Mounted product depth | 340mm |
Colors
Cinamomo Avelã/Off White
Off White/Off White
Cinamomo Castanho/Off White
The favorite furniture of thousands of families.